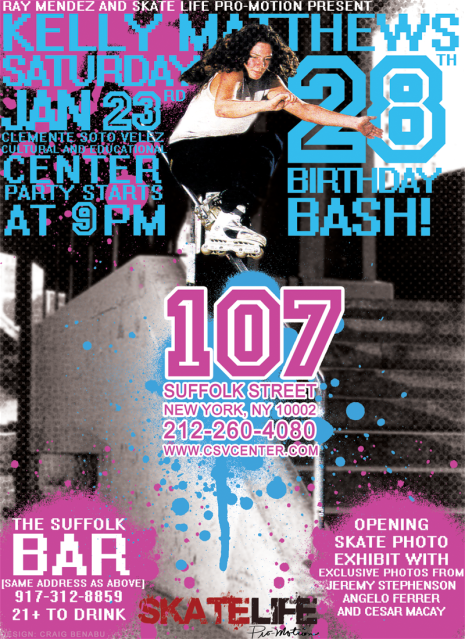 Ray Mendez & Skate Life Present:

Kelly Matthew's B-Day Bash & The Opening of "NYC Rolls" - A Group Photo Show
ft. the Works of NYC resident Skate Culture Photographers:
Angelo Ferrer, Jeremy Stephenson, & Caesar McKay.
Kelly Matthews has been a staple in the NYC skate scene for over 15 years. She is 1 of the 2 ever World Champions from the NYC area (along with former FR team mate Ryan "Riggler" Jacklone. With accolades to her credit such as: being honored as one of the "50 Best Female Athletes" by the Women's Sports Foundation at the 25th Annual Salute To Women's Sports Awards, to being featured in their book titled
"100 Greatest Women Athletes" in 2003. Along with X Games, Gravity Games, and Goodwill Games medals to boot.
In a male dominated industry Kelly helped solidify the females place in rolling sports. For a decade & a half she has continued to be presence & an influence to women & men alike both inside & out of skate culture.
Current day Matthews continues to be a force in the NYC skate community. Attending & participating in events & still shredding the streets of NYC,
Jersey & abroad.
We celebrate Kelly, her 16th year of skating & all she has done for the skate community at her 28th Birthday Bash...
"NYC Rolls" - A Group Photo Show


NYC is rapidly re staking its claim as the World Capital of skate culture.
Long the home of one of the strongest, longest running & most committed skate scenes world wide - 2009 marked the "rebirth of the giant".
The level of athleticism, talent & style that has been & is currently being produced by skaters out of NYC is unmatched by any city or scene on Earth.
In this group photo show we showcase some of that talent - both in front of & behind the lens...
With veterans such as Angelo Ferrer, newer talents such as Caesar McKay & transplants/phenoms such as Jeremy Stephenson (aka Jero)
NYC is poised to produce some of the most amazing skate imagery the world has seen.
NYC Rolls will showcase some select works from each of these photographers.
This exhibition will run for 3 weeks at the CSV (Clemente, Soto Velez) main floor gallery with an opening reception on Sat Jan 28th 2010.